FREE Estimates for all services. For the most part, I can now email or call with an accurate estimate without having to see the property. I have an on-line measuring tool I have access to so I can measure your lawn size, plug that number into a service cost generator which then gives me the estimates for any and all services. The biggest exception would be new homes that are not in the satellite data base. For those I will need to come out to take a look. Go here to view our current rates.

Landscaping: We offer full landscaping from new construction to updating your current landscape. Call 720-800-5445 for your free consultation.
Weekly Mowing: Competitive pricing, unmatched service. Includes; weekly trimming and bi-weekly edging of the sidewalks. We mulch the clippings, bagging only when the grass is too long. Clippings do not cause thatch; instead, they are a source of organic nitrogen which helps improve the soil over time. NOTE! If you have an underground dog fence and the wire runs along the sidewalk or driveway, damage from our edger could occur and we can not be responsible. These are buried wires and we can't see them. The edger will clean the edge down 1/2″ – 1″ at most.
Organ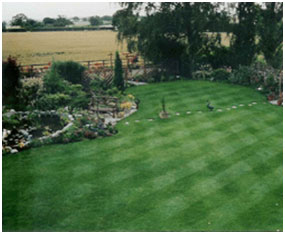 ic Fertilizing: We are now offering 2 organic fertilizing programs. Our fertilizer is safe for kids and pets, and will not burn your lawn.
The Preferred Program includes 1 early spring crabgrass preventer, 1 early summer Revive soil and water enhancer treatment, 1 summer grub treatment and 4 applications of an appropriate slow release, Organic fertilizer with the final application in mid to late October. Also includes FREE spot weed spraying in the lawn.
The Basic Program includes 3 fertilizer applications. Starting about mid April and then every 9 weeks thereafter. The Basic Program does not include weed control.
If you prefer a 1 or 2 time application (spring and/or fall), please indicate so in the comment box.
We can tailor a program to suit your needs, as well.
Aerating: Spring aerating occurs sometime in late March to early May. I recommend that your lawn be aerated in the spring, especially if it was not done in the fall. But with our heavy clay soils it is best to have this done spring AND fall. Fall aerating occurs in September/October. I also recommend overseeding when aerating if the lawn is 10 years old or more. Grass seed blends today are more disease resistant and drought tolerant. Overseeding will help you have a thicker, healthier lawn. NOTE! If you have an underground dog fence, we cannot see these wires and are not responsible for any damage to the wire due to the aerators. The plugs go to about 3″ at best, so if the wire is shallower than that, damage could occur.
Power Raking: Power raking is a very labor intensive and dirty job that removes excess thatch from the lawn. Thatch is NOT from grass clippings; rather it is root debris due to poor watering and fertilizing practices. This is a service that should only be in addition to aeration–not instead of. This service must be performed before the lawn begins to green up so as not to damage the crown of the grass plant. Our rates include the removal and disposal of all the dead material removed.
Spring and Fall Cleanups: Spring cleanups consist of bush/shrub trimming, ornamental grass cutting, any leftover dead plant material and leaves. Fall cleanups is generally only leaf removal. Rate includes cost of disposal of trimmings and debris. We start spring cleanups in January as long as the weather is cooperative. Fall leaf removal is usually done in stages as we cannot wait until all the leaves have fallen to begin….we would never get done before the snow starts and covers everything up.
Weed Control: Pre-emergent crabgrass prevention applied in March or April, then again in June if weather conditions call for it. Weed spot spraying in lawns, rock and mulch areas. Pre-emergent and lawn weed spot treatments are included with the Preferred Fertilizing program at no charge.
Disease Control: A number of lawns have suffered Necrotic Ring Spot, Summer Patch, and spider mite damage over the past few years due to the mild winters we have had. If you are not sure if your lawn is affected, I will be happy to take a look. If your lawn had Necrotic Ring Spot last year, chances are it will still need to be treated again to keep the disease at bay. The product we use is NOT organic but is very effective. 2 applications about a month apart is needed for control
Organic Insect Control for Spider Mites: I use all natural products that are derived from plant based materials and have proven to be very effective. 2 applications 10-14 days apart are needed to control the hatched eggs before they re-populate.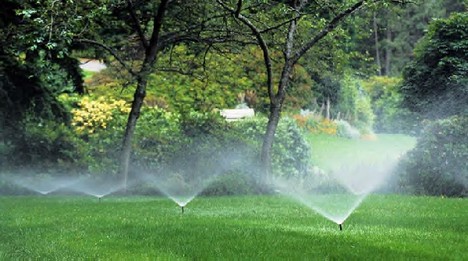 Sprinkler Start-Ups And Repairs: With the spring service I will check for proper operation of the timer, all valves and sprinkler heads. Service allows for 1 hour of labor if repairs are to be made–parts extra. I will begin turning on systems mid to late April–depending on the weather. We perform all kind of sprinkler related repairs.
Sprinkler System Winterizations: System blow outs start the end of September and continue until the end of October. By using compressed air, the lines are cleared of water that can freeze and burst a pipe or sprinkler head. Proper draining of the system is just as important or water can still remain in the line causing freeze damage only to be found when the system is turned on.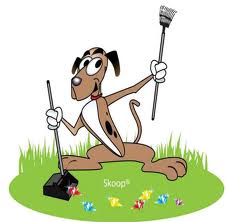 Dog Waste Removal: Performed once a week—AND year round, our Sooper Dooper Pooper Scoopers will pick up where your dogs leave off. Rates depend on; # of dogs, size of dogs, etc. But the prices will be in line with other private or franchise operations performing the same 'booty dooty'. Mowing customers get a discount during the mowing season (we perform this service at the same time we mow) It's a crappy job, but someone's got to do it! For commercial customers we can install a bag & trash station.
Dog Spot Treatment: We use an organic spray to help eliminate and to prevent the yellow spots on lawns due to the salts in the urine of dogs. Lawn spots should go away in about 6 weeks and remain spot free as long as the treatments continue. 3 applications per year help to keep the lawn green without the spots. Our first treatment occurs when the lawns are beginning to green up in the spring and then every 6-8 weeks thereafter. Lawns with multiple larger dogs may need additional treatments (every 3-4 weeks) as the volume of urine will be difficult to keep up.
Beach Grooming: For lake-front homes, this service keeps your beach weeded and groomed. We perform the grooming service every 3 weeks or so, just before a holiday. We spray/pull for weeds between the groomings.
Leaf Raking & Removal: Also called Fall Cleanup, we can take care of this at one time, or there may need to be return visits to keep up with the accumulation. We only have a ½ hour minimum so it is beneficial to you and us to make 2 or 3 trips over a span of a few weeks. Cost of disposal is included.
Vacant and Rental Property Services: for banks, realtors and investors. One time mowings, cleanouts, sprinkler maintenance, etc. We also offer off-season demo or miscellaneous labor when time permits due to snow removal schedules.
Handyman Jobs: If you have an upcoming project, we would like the opportunity to discuss it with you to see if it is something we can do. See some of our work by clicking here.
Rain Shut Off for Sprinkler Systems: Automatically shuts down the sprinkler system when raining. The sensor prevents the system from operating again for an additional 1-3 days. I have wired and wireless sensors.
Christmas Lighting: Call for service areas. Price includes the take down in January. We can use your lights, or we have lights that we charge a small amount for so you don't have to buy your own.
Snow Removal: In limited areas only, we shovel drives and sidewalks. Call if interested for the locations we serve.